Meet Van Buren Public Schools
The Van Buren Public School district has a big job to do.
Situated in Wayne County—the most populous county in Michigan—the school district is home to nearly 5,000 students who live within and outside its county and district borders. Van Buren Public Schools staff take pride in their district, and with good reason. With a truly racially diverse student body (51 percent Caucasian, 41 percent African American, and up to 2 percent each in a few other categories), rigorous academic requirements, robust athletic programs, and one-of-a-kind high school science lab, the district's standards of excellence set it apart from other Michigan schools.
Headquartered in Belleville, Michigan, Van Buren Public Schools is composed of four kindergarten-fourth grade elementary schools, one seventh and eighth grade middle school, one fifth and sixth grade intermediate school, one ninth-12th grade high school, and an early childhood development center for preschool children ages 3-5 years. The district serves the city of Belleville, Sumpter, and Van Buren Townships, a portion of Washtenaw County, and a part of Canton Township.
The Van Buren district offers many programs to help prepare students for future success. High school students are provided with college co-enrollment opportunities, advanced placement courses, summer reading programs, music and fine art curriculum, project-based collaborative learning, and more.
Like many school districts, Van Buren was struggling with outdated, time-consuming absence management software that left administrators frustrated. Not quite satisfied with the district's current solution, Van Buren Public Schools Human Resource Specialist Nicole Beckham contacted Red Rover.
After discussing Van Buren's needs with Red Rover team members Mike Wiesman and Larry Foxx, the easy-to-use absence management system was up and running in just a short period of time.
We sat down with Beckham to learn why the district switched to Red Rover, how faculty and administrators felt about the absence management program, and which features she believes are the most beneficial.
Q&A with Van Buren School District
Q: What were your top complaints surrounding absence management before choosing Red Rover?
A: I was never a fan of our previous absence management software. The entire program was not user-friendly! Nothing ever seemed updated. I was never able to create a report without help from the company because I couldn't understand the report writer language. The customer service was terrible.
Q: What ultimately made you choose Red Rover as your K-12 absence management software?
A: I really liked how friendly Mike Wiesman and Larry Foxx are. I think they had a great advantage. They already knew what people disliked about AESOP and what we wanted to see in a new software program. We signed with Red Rover when they were first rolling out their software. From the beginning, these guys showed commitment to providing a way better product.
Q: How is your team and staff adapting to Red Rover's absence management software?
A: I haven't heard a single complaint from our staff when using it to submit absences.
Q: What's your favorite Red Rover feature?
A: The Ideas page! I love the fact that I can vote on other people's ideas as well as submit my own. It's great to see them take your idea and actually implement it into the program.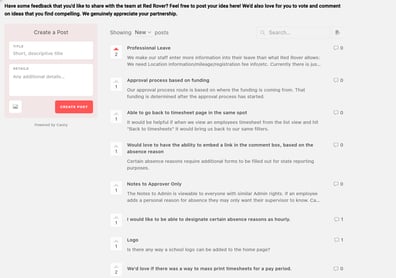 Q: From a technology standpoint, what surprised you the most about Red Rover?
A: I was surprised at how well the software works!
Q: From a customer service standpoint, what surprised you the most about Red Rover?
A: The customer service is phenomenal. Everyone on the chat is always super helpful. I've reached out via email to people and had my issue resolved the same day, which was so unexpected, but so much more appreciated. Everyone is so friendly and understanding! They totally make sure you understand what went wrong or what you need to do next without making you feel like an idiot.
Q: Would you recommend Red Rover to another Michigan school district? Why or why not?
A: Absolutely—and I have!
Q: Did switching to Red Rover improve your school district's budget?
Yes!
Q: Do you believe Red Rover is helping Van Buren Public Schools attract and retain more substitute teachers?
A: Yes! We've definitely been attracting more subs.
Modernize Your District's Absence Management Strategy
Is your district struggling with outdated absence management or time tracking methods? Can you sympathize with Van Buren Public Schools?
Red Rover can help. From innovative and simple-to-use absence management features and effortless integration to real-time customer support and convenient absence approval process for administrators, learn how more schools are saving valuable time, resources, and money with Red Rover's modern solutions.
Are you ready to come on over?